---
Start your grad off right.

Ordering graduation caps and gowns for your school or college is quick and easy.
University Cap & Gown's Build-A-Grad system has been embraced by many of the finest schools, academies, colleges and universities for its ease and accuracy in facilitating the ordering of academic regalia for students and faculty.
With Build-A-Grad
• you can organize and manage your orders in one
user-friendly location.

• your students submit their information (i.e., name,
gender, sizing information) directly online into the
secure site set up for your school or college..

• your faculty can submit their information directly into
the site set up for your school or college, or you can
upload the complete information into the system.

• you will have access as an administrator to your
school or college's site so you can monitor all
activity (i.e., keeping track of student orders).

• you will be able to eliminate the time-consuming
process of chasing down those elusive students
by sending them (or their parents) a quick e-mail
with the link to your school or college's custom
Build-A-Grad site.


Your site will be customized for you with your...

• logo or crest

• information about your upcoming ceremony

• images of the cap and gown outfit

• pricing (if you want all orders prepaid)


For a preview of what your website could look like, click:
BUILD-A-GRAD Online Ordering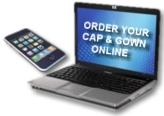 Authorized site of University Cap & Gown Co., Inc.
© Copyright 2015 - All Rights Reserved