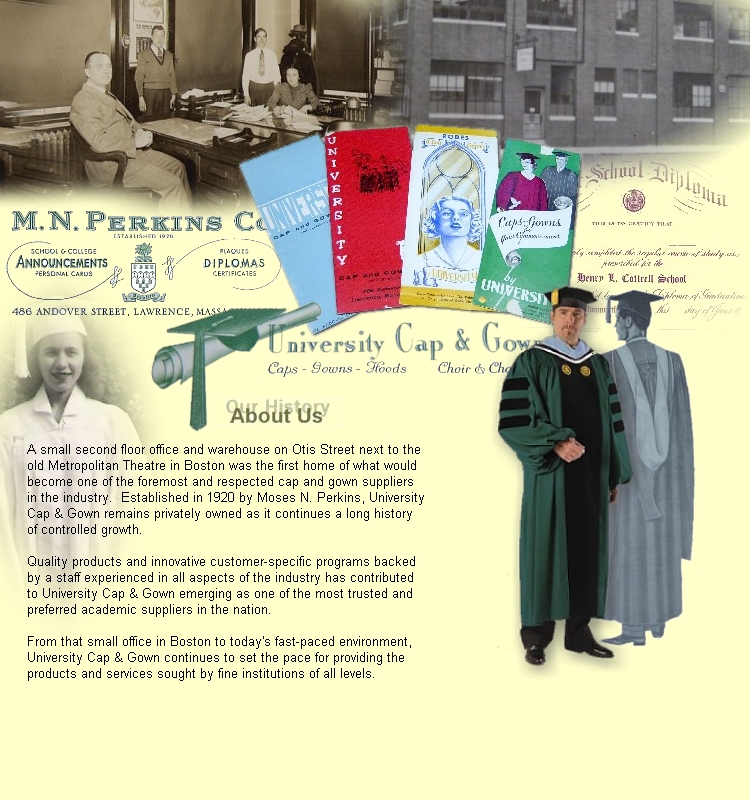 ---
Authorized site of University Cap & Gown Co., Inc.
© Copyright - All Rights Reserved










In our 93rd year we joined with our longtime manufacturing partner, Gaspard and Sons, to establish a nationwide network of sales and distribution centers. And, just 2 years later this combined partnership joined Balfour, another of the most respected and established names in the industry, to provide our customers with a single source for all graduation and student recognition products such as diplomas, graduation announcements, class rings, yearbooks and team jackets in addition to our complete line of caps and gowns for students and faculty.

From that small office in Boston to today's fast paced environment, the staff of University Cap & Gown continues to set the pace for providing the products and services sought by fine institutions of all levels.

A small second floor office and warehouse on Otis Street in downtown Boston was the first home of what would become one of the foremost and respected cap and gown suppliers in the industry. Established in 1920 by Moses N. Perkins, University Cap & Gown soon outgrew its original office and moved north to Lawrence, Massachusetts in 1949.

Quality products and innovative customer-specific programs backed by a staff experienced in all aspects of the industry has contributed to University Cap & Gown emerging as one of the most trusted and preferred academic regalia suppliers in the nation.